ALL TRAWLERS SHOWN BY APPOINTMENT ONLY

VALUE: welded-aluminum pocket-trawler, strong & durable

EFFICIENCY: range of over 400 miles on only 70 gallons of fuel

SIMPLICITY: no thru-hulls, easy access to all systems

COMFORT: two plush helm chairs, 8-inch custom mattresses

TRAILERABLE: 8' beam, weight 7000 lbs., towed with a Ford 150

STYLE: live-aboard cruising for two - Great Loop, river systems & West Coast (or any place there is 22 inches of water)
CELEBRATING OUR 20TH YEAR SELLING TRAWLERS!!!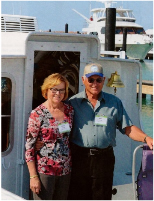 Ken & Karen Schuler are "at the helm" of Trawlers Midwest Inc., the exclusive dealer of the locally designed and built Eco-Trawler. Trawler boaters themselves, the Schulers have cruised the Great Loop and visited many ports on the Great Lakes, having crossed Lake Michigan over 80 times in many different sizes of trawlers and trawler catamarans. Some of their adventures can be found under Cruising Stories. They will speak candidly about their experiences and can be very helpful in your selection of the right trawler for you.
They look forward to meeting you any time of the year. Currently the Eco-Trawlers are in inside storage and can be shown by appointment. There are several brokerage trawlers in the water at the Manitowoc Marina during the season and stored either inside or outside in the off-season. Manitowoc is located 80 miles north of Milwaukee on Lake Michigan or 40 miles southeast of Green Bay.