ALL TRAWLERS SHOWN BY APPOINTMENT ONLY
VALUE • EFFICIENCY • SIMPLICITY • COMFORT

The 33 Eco-Trawler is a pocket trawler suitable for the great loop. It is trailerable without permits and easily pulled by a vehicle like the Ford 150. The hull is designed to take the conditions that the Great Lakes are known for and has a range of over 400 miles on only 70 gallons of fuel. The two very comfortable helm chairs make long days of cruising very enjoyable. Sleeping comfort is enhanced by 8-inch custom mattresses. Maintenance and service is minimized by the "easy to get at" systems. The absence of thru-hulls is a welcome safety feature. Welded aluminum construction makes this a lifetime boat that is easy to care for and gives it a value that will be appreciated for years to come!


Eco-Friendly trailerable Trawler
Description Standards & Specs Fuel Data Why Aluminum Construction Pictures

CUSTOM-BUILT ECO-TRAWLER LAYOUTS
CUSTOM-BUILT ECO-TRAWLER LAYOUTS – Base Boat starts at $123,000!


BASE BOAT

OPTION 1

OPTION 2
BROKERAGE TRAWLERS
Ideal Great Loop Trawlers and many Fresh Water Trawlers


We list and sell trawlers all over the United States and Canada!
Click on any picture of a brokerage trawler to go directly to that listing.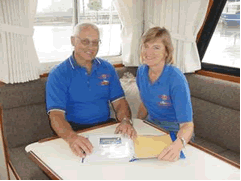 Ken & Karen Schuler are "at the helm" of Trawlers Midwest Inc., listing and selling trawlers all over the United States and Canada. They carry a variety of brokerage trawlers ranging from pocket trawlers to long-range cruising trawlers with multiple staterooms. Trawler boaters themselves, the Schulers have cruised the Great Loop and visited many ports on the Great Lakes, having crossed Lake Michigan over 80 times in many different sizes of trawlers and catamarans. Some of their adventures can be found under Cruising Stories. They will speak candidly about their experiences and can be very helpful in your selection of the right trawler for you.
They look forward to meeting you any time of the year. There are a variety of brokerage trawlers in the water at the Manitowoc Marina during the season and stored either inside or outside in the off-season. Manitowoc is located 80 miles north of Milwaukee on Lake Michigan or 40 miles southeast of Green Bay. Arrangements will also be made for you to see the brokerage trawlers that are at their owner's location.
The LOCATION of each vessel can be seen in the right column of the itemized page listings. The CODES column indicates power, new or used, single or twin engines, diesel or gas, and hull composition of fiberglass, steel, wood, etc.
The Contact Us page has buying & selling info, our contact info, directions to the marina, carferry info, and hotel accommodations.